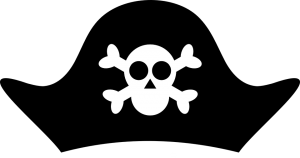 After finding out about a gigantic cybersecurity flaw in BitTorrent clients scouring the internet, The Pirate Bay is involved in another breaking news story. Bahnhof, a very popular major ISP in Sweden which irronically has been very proud of their management of customer details and how they keep then "private" has now been ordered to hand over the details of those who stream illegally to the police. The ISP has proudly fought off valiantly to protect customers data in the pass and to bring a halt to details being disclosed and even came out saying that it has never handed over any personal client information to anyone.
It seems as if Bahnhof may have spoke too soon. Being a new ruling could bring Bahnhof to their knees and force them to release client information that have been thought to be involved in pirating copyrighted content. None other than the Administrative court in Sweden had called for the ISP to release the clientele information to the respective authorities. The website came out with a statement with a quote of what the court had reported to them – "The administrative court in Stockholm has found that today the Swedish provisions on disclosure of subscription data to law enforcement agencies do not contravene EU law.", "The court therefore considers that the Post and Telecom Agency (PTS) has been prepared to instruct the operator Bahnhof to disclose subscription information in accordance with the provisions of the Electronic Communications Act".
Users of all kinds of torrent sites INCLUSIVE of The Pirate Bay should be worried and concerned for all sorts of reasons. Bahnoff however, states that they are committed to making sure their customers data and information stays private and hopefully not end up in the hands of those that it shouldn't.
The ISP released another statement on their site stating that – "We believe the sentence is incorrect, but it is also difficult to take PTS seriously when they can not even interpret the laws behind the decision in a consistent manner.", "We are of course going to appeal. We refuse to disclose our customers' integrity to an authority that says to themselves." But if may be of no use, because if the ruling withstands it could mean that not just Behnoff will be requited to reveal client information to the authorities – maybe not even just those pirating content but a FULL list.
This seems to be very coincidental timing with UK ISPs sending out letters of warning to clients whom had used their accounts to pirate copyrighted content from sites such as The Pirate Bay. The message invluded: "This is a government-backed scheme which aims to support Britain's creative industry by informing people about legal sources of content, with the aim of reducing the illegal sharing of copyrighted material.", "By sharing illegally rather than enjoying it from legitimate sources, you aren't supporting the growth and success of the content you love." What do you guys have to say on the subject? Leave a comment below this article to let me know what you think.