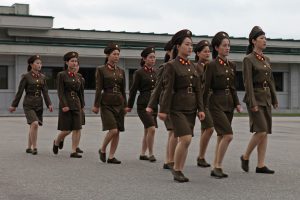 Another day, more craptocurrency going missing and cryptocrazies going even crazier. And it gets even more unsurprising as it is very possible that the culprits could be from none other than North Korea. If the allegations are accurate, this could be the 3rd North Korean responsible attack on craptocurrencies in just a few months. South Korea's National Intelligence Service was quoted saying "Last year, North Korea sent phishing emails to cryptocurrency exchanges and members of those exchanges and stole the passwords of a significant number of members" during a committee with a lawmaker in relations to South Korea's issues with craptocurrencies.
They were also quoted saying "It was also confirmed that North Korea used technology that neutralizes the antivirus software of a well-known South Korean company and sent phishing emails under the guise of job applications, taking advantage of the fact that cryptocurrency companies regularly hire new employees.
Apparently, the situation is even more serious than is generally thought". The NIS was first reported the suspicions of the grand heist of craptocurrency from a Japanese craptocurrency exchange which totalled $530 million US dollars, that the hackers were those of North Korean descent – reported the NIS to the Intelligence Committee based in South Korea.
A lawmaker from the Liberty Korea Party and chair of the Intelligence Committee, Kang Seok-ho was quoted saying "Starting in October of last year, the Organization and Guidance Department of the North Korean Workers' Party carried out a three-month inspection of the General Political Bureau of the Korean People's Army".
The NIS was also able to make a statement that "North Korea's inspection of the General Political Bureau of the Korean People's Army is presumed to have resulted in the dismissal of Hwang Pyong-so from his post as bureau director and his assignment to ideological education at the Higher Party School, while a number of senior officials have been dismissed or executed, including bureau deputy director Kim Won-Hong, who was relieved of his duties and struck from the rolls of the Korean Workers' Party." Kang went on further to say "Kim Jong-gak, former First Vice Minister of the Ministry of People's Armed Forces, appears to have been named to replace Hwang Pyong-so, while Son Chol-ju has been named deputy director of organization and Ri Du-song deputy director of propaganda".
The NIS also reported that "The string of sanctions against North Korea have suspended exports of coal, seafood and toll-processing textiles, causing the North's volume of trade with China to plummet. As of the end of 2017, North Korea had a US$1.96 billion trade deficit with China, its largest deficit ever".
With all this being said, the NIS went on further to go over that the military celebrations on the 8th of February for the North Korean People's Army Foundation Day was something to consider, quoted saying ince early December, North Korea has mobilized more than 12,000 soldiers and 160 pieces of equipment at Mirim Airport outside Pyongyang to prepare for the military parade. We're keeping a close eye on this because various missiles may also be unveiled during the parade".