This week has seen the boys and girls at Riot Games put on a world class event with the Season 3 Finals of League of Legends in Los Angeles. The week started at Culver Studios, where European champions Fnatic took on North American seed champions Cloud 9 Kingston HyperX.
The Culver Studios location was very intimate and very cool, with only 300 odd people allowed in the event, but because of the size and setup of the studio the atmosphere was brilliant! I much preferred this location to the Galan Center, which was much larger and had a lot less of an atmosphere. The "Swag Guy" at Culver really knew how to get the crowd ramped up and being within touching (almost) distant of the hottie that is Sjokz was a bonus, if only I was ten years older.
The first game was highly anticipated, although I am a huge fan of Cloud 9, the boys at Fnatic put in a massive performance to stroll in to the semi-finals with a 2-1 win. The second game was between the hotly fancied Korean Najin Black Sword and Europeans Gambit Benq, with the Koreans prevailing with a 2-1 win.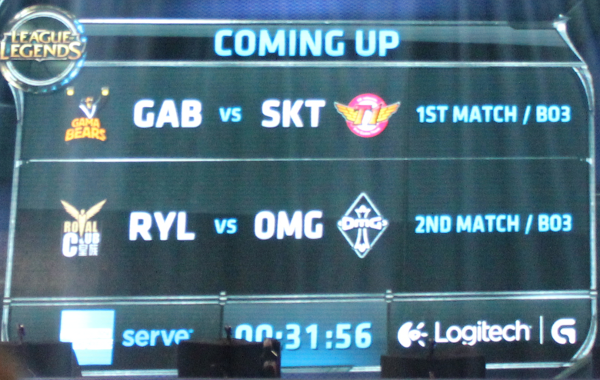 Day two of the quarter-finals saw the surprise Taiwanese champs, Gamania Bears take on the giants, Korea's SK Telecom T1. Although the Taiwanese put in a spirited fight the Chinese smashed it 2-0, setting up a semi-final fight with Najin Black Sword.
The second game of day two came in the form of Chinese champs Royal Club take on their arch rivals, also from China, OMG. While OMG were hot favourites, it was not even close, Royal Club were ruthless and sent a huge warning message to all of the other competitors that they were there to win it all, and reminded us that they are the nubmer one Chinese seed.
The semi-finals were played at the Galan Centre, first up on Friday night was a best of five series, SK Telecom T1 vs Najin Black Sword. SKT were hot favourites, but NJS didn't know they were supposed to roll over without a fight and took the two of the first three games, making it match point with two games to go. But SKT are known for analysing the teams they played against and adapting their attack styles. They needed to win the last two games to make the final, and they did, decisively. A worthy finalist.
The second semi-final was played on Saturday lunch time, which was a mistake. First of all, the game from the night before finished in the early hours, it was 2:00am before I made it to bed, and another hour before I managed to wind down enough to sleep, after the excitement of the days actions. On top of that I had to be up by 9:00am so I could make it through the LA traffic to get to the Galan Centre for day two of the semis. But it was the lack of atmosphere for the day time event that was most disappointing. It shouldn't make a difference, as once you were in the Galan Centre you didn't know it was daylight outside, but it did.
The hot favourites were Fnatic, with most of the analysis team picking them to win the showdown with Royal Club. I am not sure what quarter finals they were watching however, as Royal were so dominant against another world class team in OMG, while Fnatic just scraped pass Cloud 9. I would go as far as to say that if Cloud 9 had organized their bans and picks better against the adapted playstyle preformed by Fnatic's star mid laner xPeke, they would have made it to these semis.
Unsurprising (to me at least) Royal crushed Fnatic, finishing it in four games, 3-1, taking their total to 5-1 for this World Series.
That means the final on Friday 4th Oct is between Korea's SK Telecom T1 and China's Royal Club, at the sold out Staples Centre. It is going to be a huge final, with the two most dominant teams making it through; both teams deserve to be there. But in my books there can be only one winner; Royal Club, and they will repeat their semi-final win dropping only one game to finish it 3-1.
On a final note, a shout out to Riot, the events have been brilliant, the swag bags great, I am a big fan of the wrist bands that light up when you clap, and the staff couldn't be more helpful. In fact on day two of the semis I was in rubbish seats, directly to the side of the large screen, and a Riot staffer (sorry didn't get your name) came over and said we could move to better seats directly in front of the screen and stage. It is little things like that, that make a huge difference in the overall experience of these events, nice one guys!