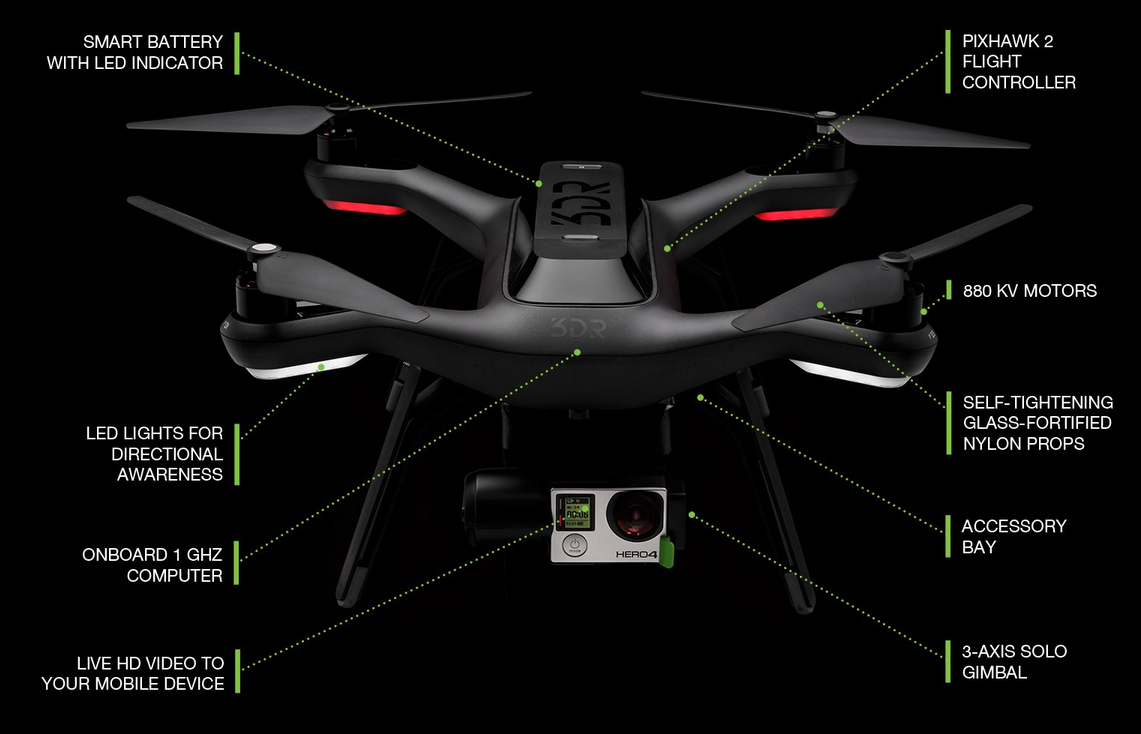 Recently, the 3D Robotics Company has announced the "Solo" which is a new smart drone, that you can get on pre-order. Some interesting features of this new smart drone are given below:
Experience effortless and safe flight

This new smart drone makes flying easier with its smooth and reliable GPS satellite-guided flight. Its features also include auto takeoff and land, return home and the ability to immediately hit an e-brake and pause your flight midair. All these features are immediately available through the Solo mobile app or dedicated buttons on the Solo remote controller.
Computer-assisted cinematography

This intelligent drone opens powerful and computer-assisted Smart Shots. You can set up the exact shot which you want in real time by clicking "play" on the app and this new smart drone will implement it with a level of precision and a soft touch. Moreover, cable cam and orbit allow you to create a known and safe flight path along with an effective track in space. In this way, it shifts your focus towards getting the shot you want. This new smart drone features also include an aerial Selfie (one-touch) for an outstanding and a customizable establishing Smart shot of you and your environment.
HD GoPro video for smart phones

Speaking globally, Solo is the very first drone which wirelessly delivers HD video from your GoPro to your Android or iOS intelligent phones at about more than half a mile distance. The controller of this drone contains HDMI output for the Jumbotrons in live event, high-quality field monitors, live HD broadcast to FPV goggles and even news vans. A splendidly low video latency in your live video creates the feelings of latest event. In case of immediate social sharing of your videos, you can also record the live video stream directly from the mobile app to your device camera.
The Solo App for iOS and Android

The mobile development team of 3D Robotics has focused its efforts on providing a very unique and interesting user experience with a drone. The Solo app of this drone allows you to choose between a live view from the camera and a satellite view of your selected shot, control your GoPro and even change how the controller responds to commands. This Solo app also includes the features of instant access to technical support, automatic cloud-based logging of your flights and recording of the live HD video stream as well as support for further web-based control of Solo.
Solo Gimbal

Solo offers you the special ability to start and stop recording video during flight. You are allowed to change FOV, snap photos, FPS, exposure compensation and much more through the mobile app of Solo at long range or through buttons on the controller. The feature of 3-axis Solo Gimbal balances the camera within 0.1 degrees of pointing accuracy, charges the GoPro and your battery doesn't power off during flight. A fine grain tilt control is combined with the controller of drone which includes instant speed adjustments and angle presets. You can only create a Smart Shot, hit "play," and the computer of this Solo drone will fully control the Gimbal for the perfect shot. All of these advanced capabilities are provided by Solo Gimbal. This Solo Gimbal is sold separately for $399.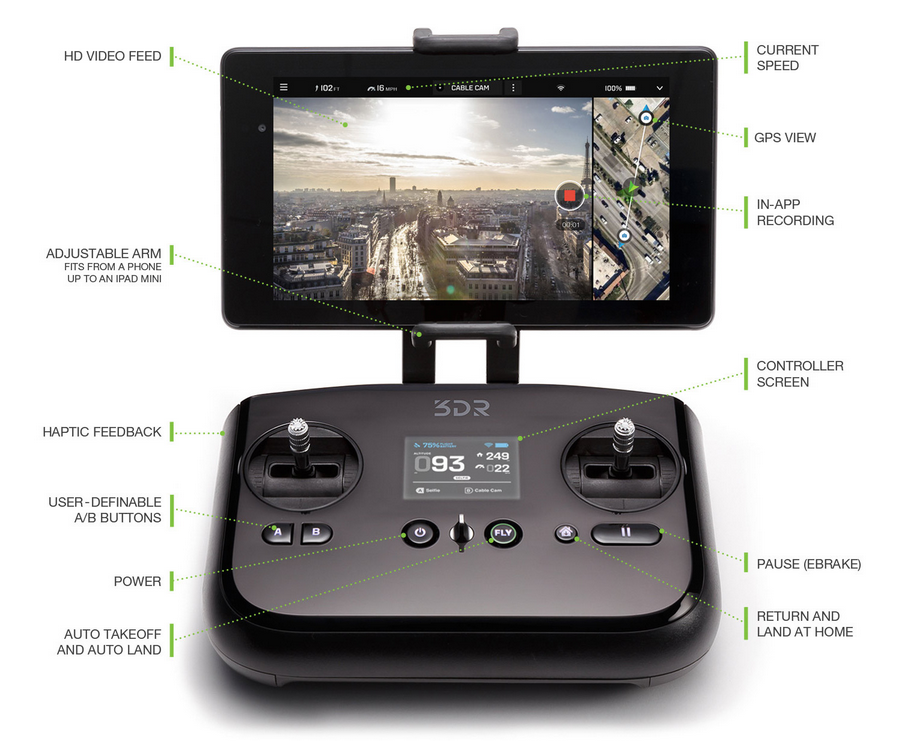 The first consumer drone run by two full blown computers

1 GHz ARM Cortex-A9-powered Linux comp. adorns this drone. Computer acts as frontal cortex of Solo and manages the high-level processing. The onboard processing power of the computer is used for heavy lifting while the autopilot acts as brainstems which mainly focus on completing the basics of stable and reliable flight. This distribution of tasks minimizes the chances of failure of autopilot system during flight. The smart technology of Solo allows us to introduce industry capabilities and also gives us the ability to open future technologies.
The Solo Smart Battery

The battery of this Solo smart drone not only observes the remaining battery charge, but also aids to account for location. In this way, the mobile app can give you important alerts like when to start heading home based on Solo's distance from you. The battery actually communicates with the controller of drone that shows your remaining flight time and also present power usage for the better and more informed battery management.
World-class customer support

This new smart drone "Solo" is provided with world class customer supports like newly expanded support team of more than 60 technicians and a powerful new support solution built right into the app. This smart drone has its flight journal, constantly logging information over 500 parameters as it flies. One can examine these files on his/her own, or share them with our support team to help in troubleshooting.
//