An interesting screen capture turned up on Reddit. Twitter user Max (@Irqendeiner) asked David Vonderhaar (@DavidVonderhaar), game director of Black Ops II, "There are so many guys who glitched/hacked to master prestige on PS3. Any chance that they are getting reset?"
David "Vahn" Vonderhaar, answer was short but sweet "100% Chance".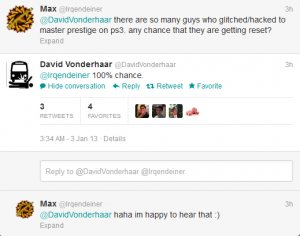 The Prestige users that hacked their way to the top are typically easy to spot, first of all they are not as good as their title suggests, secondly if you check their combat record, and you see the Tactical Insertion as their most used or second most used equipment it is likely they glitched their way to the top.